Once one young catholic priest, who had decided to run Alpha course where the basics of Christianity are taught, asked me: "How can I understand - it is said that Jesus lives in our hearts, but nevertheless he is also in the Eucharist? Where is Jesus?"
I then was Catholic, too, and did not know what to answer him. My knowledge of the Word of God was too little then. I already felt, where the truth is, but we cannot depend only on our senses, it can easily lead us into mistake. We need to grow in the Lord
Eph 4, 14-15:
That we henceforth be no more children, tossed to and fro, and carried about with every wind of doctrine, by the sleight of men, and cunning craftiness, whereby they lie in wait to deceive; But speaking the truth in love, may grow up into him in all things, which is the head, even Christ
God gave us the holy Bible – His Word that we will not lose our way and will not grow apart form Him.
2John 1, 9:
Whosoever transgresseth, and abideth not in the doctrine of Christ, hath not God. He that abideth in the doctrine of Christ, he hath both the Father and the Son.
While we live in our material bodies we are influenced by many things: our experience and habits, attitudes and traditions that are formed long ago, even in childhood, our desires, objectives and ambitions, our likings and distaste. For the meantime, while we live in our material bodies our knowledge is partial.
1 Cor 13, 9-10:
For we know in part, and we prophesy in part. But when that which is perfect is come, then that which is in part shall be done away.
Nevertheless if we are converted into Jesus Christ and are determined to follow Him, we cannot shrug off, declare that God is incognizable and keep living our old habitual life. If we are converted into Jesus Christ and we love Him, we desire to know him more and more, to have a relationship with Him and to do His will. Holy Spirit who now dwells in us encourages us to do it. Jesus says that those who are really willing to follow Him will recognize His voice:
John 10, 14:
I am the good shepherd, and know my sheep, and am known of mine.
Jn 10, 27-28:
My sheep hear my voice, and I know them, and they follow me:
And I give unto them eternal life; and they shall never perish, neither shall any man pluck them out of my hand.
We want to follow him and we seek knowledge to know him better. We do not seek knowledge in the sake of knowledge that would make us to be proud of our wisdom. We seek to do God's will in humbleness that would let us into truth.
John 8, 31-32:
Then said Jesus to those Jews which believed on him,
If ye continue in my word, then are ye my disciples indeed; And ye shall know the truth, and the truth shall make you free.
Therefore there is no need to ignore things that your heart says; simply we should compare and confirm all the things with Word of God, because satan is the father of lie. He always tries to cheat us and to take away the Word of our hearts. And Jesus Himself warns us against it in the well-known parable about the sower.
Luke 8, 11-12:
Now the parable is this: The seed is the word of God. Those by the way side are they that hear; then cometh the devil, and taketh away the word out of their hearts, lest they should believe and be saved.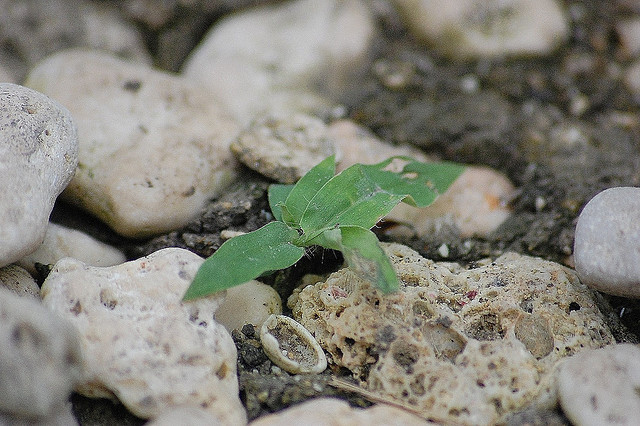 The gospel brings us joyful news, but the road of a disciple is not easy to walk. Often you have to choose between pleasant things that you are used to and the truth. And satan walks about trying to make you lose the narrow road of discipleship.
When I accepted gospel and heard the voice of God in my heart I began to notice a lot of things that did not agree with Word of God in teaching of Catholic denomination. And I know that there are some people, who believe in Jesus Christ, but consider themselves as Catholics, who see many evil things in this denomination. They innocently think that these evil things can be corrected. They would like to correct many things and maybe it would be possible, but any reforms in Roman Catholic denomination are implemented particularly heavily. If Roman Catholics would refuse images veneration, the cult of "Mary", prayers for the dead, but the attitude to Eucharist would remain the same this denomination still would remain in error.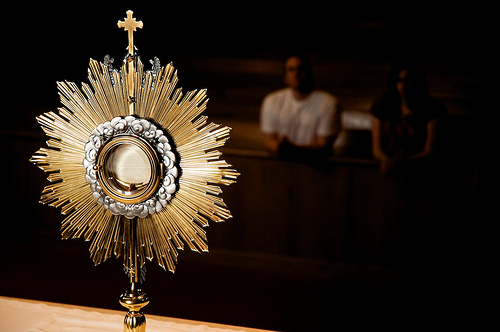 It is painful for me to see how respectfully, how sincere respectfully and with such devotion people kneel in adoration before "holy" Eucharist… They can spend hours in such meditation. They find inner peace in this devotional stupor; that is a way to run from all problems and miseries. People go home feeling relief and comfort after "talking with Jesus in Eucharist". They really believe that God imprisoned Himself in a small piece of bread. And I myself used to behave this way before hearing and accepting the Word of God.
Teaching that God lives in a small wafer is so firmly rooted in sincere Catholics hearts that only God is able to unroot it. The adoration of Eucharist – one of the most cunning lies of satan that are planted in the hearts of people who belong to that organisation.
Once I asked one young lady who was a Christian before her marriage with Catholic, what was the reason that determined her decision to become Catholic? She answered that it was Eucharist, those feelings and pleasant emotions that she felt every time during the elevation and later, when she received her wafer. And later I heard about one young catholic priest that used to be Christian too, but later in search of deeper experience of God surrendered to similar deep pleasant feelings during Eucharist. I myself felt deep feelings during Eucharist and Mass, but I desired truth far more than feelings. When I converted into Jesus Christ I gradually began to notice and to understand in my heart that those things that take place during Mass do not conform to the Word of God. At first I had little idea how everything should be and therefore I thought that the problem is some imperfection of the ritual itself and that the ritual of Catholic Mass should be somehow improved and maybe the bread itself should look somehow differently. I strongly desired to know, how the proper breaking of bread looked like with Jesus and later, in apostolic time. I began to pray in childlike manner that God would let me to taste that true and proper bread, such bread that broke Jesus and his disciples, at least once. And the Lord heard me. He revealed me that the point is not in the bread's taste, form or appearance, but in the Word of God. And He led me and my husband Nerijus out of this denomination and I give thanks to Lord God every day for His mercy.
Senses and feelings are normal things given to us by God while we live in our bodies. They can give a big pleasure for our soul or they can be like a warning signal for us if something is going wrong way. Nevertheless we cannot depend only on our senses and feelings. You see, if our senses tell us something different than the Word of God, then we should not follow them. Jesus often said to the disciples to keep watch and Apostle Peter also warns us to be sober and vigilant:
1Pet 5, 8:
Be sober, be vigilant; because your adversary the devil, as a roaring lion, walketh about, seeking whom he may devour
Therefore Christians must know the Word of God well. Of course, satan perfectly knows the Word of God also, but Jesus gave us the example how to fight satan with the Word of God, when He was tempted in the desert.
Let us look what it is said regarding breaking of bread in the Bible. What did Jesus say at the last supper before His suffering on the cross?
Mark 14, 22-24:
And as they did eat, Jesus took bread, and blessed, and brake it, and gave to them, and said, Take, eat: this is my body. And he took the cup, and when he had given thanks, he gave it to them: and they all drank of it. And he said unto them, This is my blood of the new testament, which is shed for many.
Matt. 26, 26-29:
And as they were eating, Jesus took bread, and blessed it, and brake it, and gave it to the disciples, and said, Take, eat; this is my body. And he took the cup, and gave thanks, and gave it to them, saying, Drink ye all of it; For this is my blood of the new testament, which is shed for many for the remission of sins. But I say unto you, I will not drink henceforth of this fruit of the vine, until that day when I drink it new with you in my Father's kingdom.
Luke 22, 14-20:
And when the hour was come, he sat down, and the twelve apostles with him. And he said unto them, With desire I have desired to eat this passover with you before I suffer: For I say unto you, I will not any more eat thereof, until it be fulfilled in the kingdom of God. And he took the cup, and gave thanks, and said, Take this, and divide it among yourselves: For I say unto you, I will not drink of the fruit of the vine, until the kingdom of God shall come. And he took bread, and gave thanks, and brake it, and gave unto them, saying, This is my body which is given for you: this do in remembrance of me. Likewise also the cup after supper, saying, This cup is the new testament in my blood, which is shed for you.
And we know from the Scripture that disciples used to repeat this ritual that Jesus left. We can read about it in the book of Acts and in the Epistles of Paul, where he explains how it must be done.
1Cor 11, 20-26:
When ye come together therefore into one place, this is not to eat the Lord's supper. For in eating every one taketh before other his own supper: and one is hungry, and another is drunken. What? have ye not houses to eat and to drink in? or despise ye the church of God, and shame them that have not? What shall I say to you? shall I praise you in this? I praise you not. For I have received of the Lord that which also I delivered unto you, That the Lord Jesus the same night in which he was betrayed took bread: And when he had given thanks, he brake it, and said, Take, eat: this is my body, which is broken for you: this do in remembrance of me. After the same manner also he took the cup, when he had supped, saying, This cup is the new testament in my blood: this do ye, as oft as ye drink it, in remembrance of me. For as often as ye eat this bread, and drink this cup, ye do shew the Lord's death till he come.
1Cor 11, 27-29, 33-34:
Wherefore whosoever shall eat this bread, and drink this cup of the Lord, unworthily, shall be guilty of the body and blood of the Lord. But let a man examine himself, and so let him eat of that bread, and drink of that cup. For he that eateth and drinketh unworthily, eateth and drinketh damnation to himself, not discerning the Lord's body. For this cause many are weak and sickly among you, and many sleep. For if we would judge ourselves, we should not be judged. But when we are judged, we are chastened of the Lord, that we should not be condemned with the world.
Wherefore, my brethren, when ye come together to eat, tarry one for another. And if any man hunger, let him eat at home; that ye come not together unto condemnation.
Thus, breaking of bread is a very important ritual, left by Jesus Christ Himself and we cannot refuse it, if we believe that we are Christians. What does it give to us? Why did Jesus say to His disciples to repeat things that He had done after Supper before his sacrifice for our sins?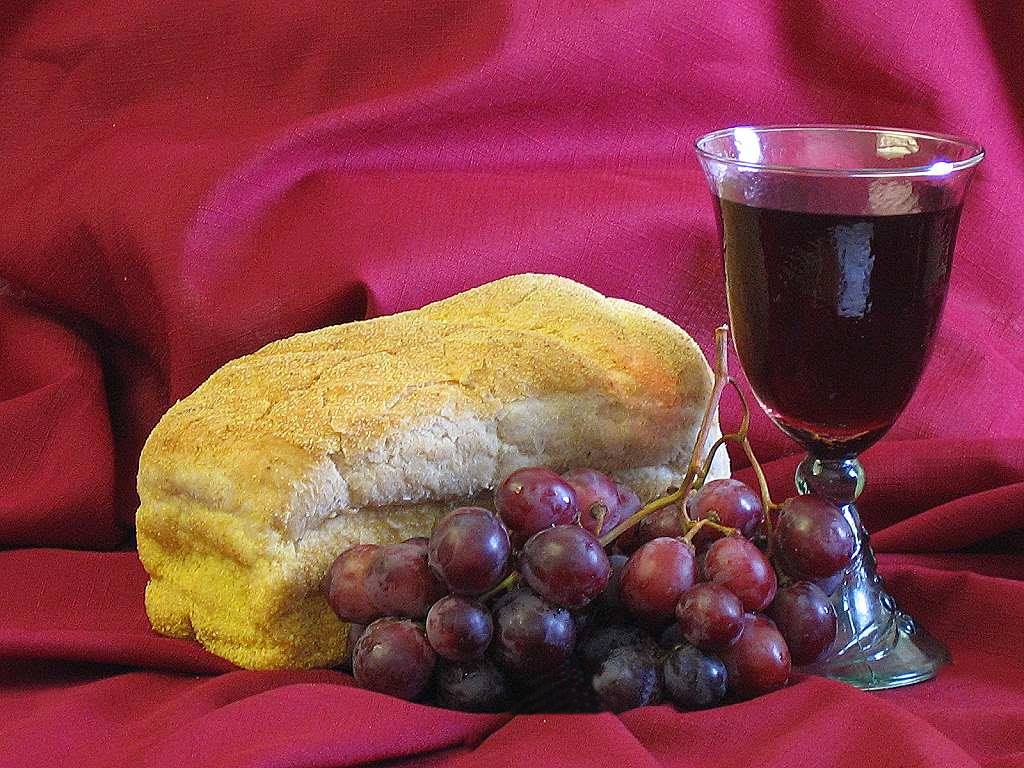 We all belong to the body of Christ and we witness this when we break bread together. This collective symbolical act lets us into deeper sensation and perception of unity not only with Jesus Christ, but also with other brothers and sisters who take part together in breaking of bread.
In the times of Old Testament circumcision of body was the sign that you belong to people of God. In the New Testament times, when "there is neither Jew nor Greek…", circumcision of body has lost its significance.
Gal 5, 1-6:
Stand fast therefore in the liberty wherewith Christ hath made us free, and be not entangled again with the yoke of bondage. Behold, I Paul say unto you, that if ye be circumcised, Christ shall profit you nothing. For I testify again to every man that is circumcised, that he is a debtor to do the whole law. Christ is become of no effect unto you, whosoever of you are justified by the law; ye are fallen from grace. For we through the Spirit wait for the hope of righteousness by faith. For in Jesus Christ neither circumcision availeth anything, nor uncircumcision; but faith which worketh by love.
Love to the Lord God and to your neighbor, sincere observation of Christ's teaching and keeping things that He said to do (and you can achieve it only with the help of the Holy Spirit), show that you are a disciple of Jesus Christ. However the ritual itself, let it be baptism or breaking of bread, cannot save you or make you a true Christian. The order is such: when you are born of the Spirit you become the child of God and you confirm this by baptism and then you take part in breaking of bread together with other Christians, disciples of Jesus Christ. It is not easy to be a disciple of Jesus Christ and you need to examine yourself continually and to "circumcise" your heart.
When we break the same bread with other our brothers and sisters, we belong to the same body, the body of Christ. The blood of Christ was shed for us and washed us from all our sins, therefore when we drink his symbolic blood we remember that sacrifice again and again and every time we ask ourselves: "Do I believe?" If yes, then: "Do I go that path that was outlined for me? Do I eat this body and drink this blood worthily? Do I understand what has Jesus done for me?" Let us look again what Apostle Paul says:
1Cor 11, 27-29:
Wherefore whosoever shall eat this bread, and drink this cup of the Lord, unworthily, shall be guilty of the body and blood of the Lord. But let a man examine himself, and so let him eat of that bread, and drink of that cup. For he that eateth and drinketh unworthily, eateth and drinketh damnation to himself, not discerning the Lord's body.
While we live in our bodies and constantly experience various trying and attacks of satan we need to ask it ourselves again and again and to remember the Sacrifice of Jesus Christ again and again that our faith would grow. Breaking of bread gives us strength in discipleship path, but not because by some miracle the mighty God becomes a piece of bread and we consume it like cannibals. God lives in us - His Holy Spirit lives in our hearts. He does not live in a wafer or grape juice. If we are born of the Spirit, God is in our hearts and we are the vessels of Holy Spirit.
2 Cor 1, 21-22:
Now he which stablisheth us with you in Christ, and hath anointed us, is God; Who hath also sealed us, and given the earnest of the Spirit in our hearts.
God acts through us in so far as we are able to let Him because of our imperfection. Every time our participation in breaking of bread is like confirmation: "Yes, Jesus Christ, I remember Your sacrifice and I thank You. I follow You and I go the road You has appointed. And my brothers and sisters believe You and follow You and we are not going to succumb because You are with us always, even till the end of the world. We believe your promise and we do your will."
Such is now my understanding, why breaking of bread was left for us. Earlier, when I belonged to Catholic denomination, I had another understanding.
Read about it in the next section.