True Christianity has nothing in common with the organization, with pursuit of popularity and growth, and with the desire to get prosperity and recognition. This is the path of Jesus discipleship, having direct communication with God, our Father, through the Holy Spirit. And this is a very difficult path. You will not need human teachings and traditions, rituals, ceremonies, paying of tithe and obligatory prayers in this path. These things do not help you; they are traps of satan left for you, but if you sincerely desire to communicate only with God, only to be with Jesus Christ, but not Jesus and something else besides Him, then you can avoid these traps. In this journey towards kingdom of heaven is God and you, His child. And this is very serious. Going through this path will be challenging. The trials will be given for you, inevitably. Not to torment you, but in order to grow you in humility and the knowledge of God. He will try your heart and grow your faith through the right choices you will make for Him. And it will usually be painful. You know that Jesus speaks of the cross and the yoke. Such is the way of discipleship. Jesus was not joking when He said:
Mark 8, 34-38:
34 And when he had called the people unto him with his disciples also, he said unto them, Whosoever will come after me, let him deny himself, and take up his cross, and follow me. 35 For whosoever will save his life shall lose it; but whosoever shall lose his life for my sake and the gospel's, the same shall save it. 36 For what shall it profit a man, if he shall gain the whole world, and lose his own soul? 37 Or what shall a man give in exchange for his soul? 38 Whosoever therefore shall be ashamed of me and of my words in this adulterous and sinful generation; of him also shall the Son of man be ashamed, when he cometh in the glory of his Father with the holy angels.
Why do people choose religion instead of discipleship? Why some do turn out from God and return to worldly things? In my opinion, the answer is man's heart.
Proverbs 4, 23:
Keep thy heart with all diligence; for out of it are the issues of life.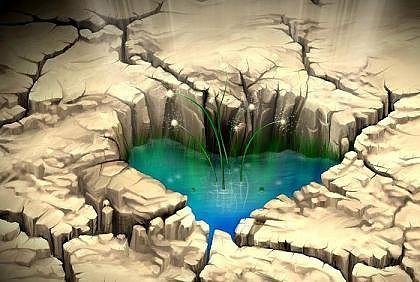 There are lots of men and women, who at the beginning were walking with God, but lost their path and fell into the trap of Satan. Great ministry is a big challenge. If you desire for something else in your heart, not just Jesus, satan will inevitably came through that gap. If you have not seen such sad examples I am speaking here, you can come to visit us, and we will give you a cup of tea and will tell you some sad but revealing stories from Christian life. I do not want to blame anyone, I am just watching what is going on, and I pray that the Lord will help me to maintain a humble heart.
The church is the bride of Jesus, according to the Word of God, right? Who is the bride, what she is like? What is she waiting for, what does she want, what does she expect, and what does she longs for? I think, if I belong to Jesus' bride, then the most important thing for me should be not some very great and special things to make, but to do everything that my beloved will be happy with me, when we will finally meet. Therefore, those who pray for revival and ask that the Lord would act through you making signs and wonders, please, think twice and explore your heart, what is the reason, why do you want such things. What if God will fulfil your desire and will give you the great ministry? Will you be able to cope with the crowd standing at your door during the night and knocking at the door from the six a.m.? Will your heart remain humble, in spite of people attention and respect, even prominence, seeing how people are catching your every word? Will you not became arrogant and will not feel self-important receiving the gifts from people? Will you give all merit for you as a person, or to God? Even God's chosen servant Moses partly failed this test, and did not enter the Promised Land, only looked at it.
Often we really lack of understanding, but God is very patient with us. He is waiting until the person sincerely chooses to know Him. Not such God as one has created in his/her mind, but such God as He really is. Often people do not want to know God. They read and accept only those parts of the Holy Scriptures, which they like. I understand they are afraid. I remember, I was also afraid and I did not want to take Him as He is. It is a great temptation - to create your own God; to take only such His image, you can easily accept. We are tempted to think about Him only like about loving God and do not recognise His wrath; to pick only the image of the Father in the parable of the Prodigal Son, the one that is running spreading His hands to meet you. The comparison is correct, God really loves us. But let us not forget that this has been said only in comparison. The Lord God is not a human senile father. The Song of Songs says that God loves us jealously and His love is strong as death.
Song of Solomon 8, 6-7:
6 Set me as a seal upon thine heart, as a seal upon thine arm: for love is strong as death; jealousy is cruel as the grave: the coals thereof are coals of fire, which hath a most vehement flame. 7 Many waters cannot quench love, neither can the floods drown it: if a man would give all the substance of his house for love, it would utterly be contemned.
It is easier for us to imagine jealous love of young man here, but our Lord God is not a man. He is Father of the spirits, a consuming fire. He is God the Judge of all. Apostle Paul is explaining in his letter:
Hebrews 12, 18-29:
18 For ye are not come unto the mount that might be touched, and that burned with fire, nor unto blackness, and darkness, and tempest, 19 And the sound of a trumpet, and the voice of words; which voice they that heard intreated that the word should not be spoken to them any more: 20 (For they could not endure that which was commanded, And if so much as a beast touch the mountain, it shall be stoned, or thrust through with a dart: 21 And so terrible was the sight, that Moses said, I exceedingly fear and quake:) 22 But ye are come unto mount Sion, and unto the city of the living God, the heavenly Jerusalem, and to an innumerable company of angels, 23 To the general assembly and church of the firstborn, which are written in heaven, and to God the Judge of all, and to the spirits of just men made perfect, 24 And to Jesus the mediator of the new covenant, and to the blood of sprinkling, that speaketh better things than that of Abel. 25 See that ye refuse not him that speaketh. For if they escaped not who refused him that spake on earth, much more shall not we escape, if we turn away from him that speaketh from heaven: 26 Whose voice then shook the earth: but now he hath promised, saying, Yet once more I shake not the earth only, but also heaven. 27 And this word, Yet once more, signifieth the removing of those things that are shaken, as of things that are made, that those things which cannot be shaken may remain. 28 Wherefore we receiving a kingdom which cannot be moved, let us have grace, whereby we may serve God acceptably with reverence and godly fear: 29 For our God is a consuming fire.
We should remember about consuming fire that will shake the heaven and earth and to serve God with reverence and godly fear. That is why when I heard people call God in diminutive name (maybe it is not possible in your language, but Lithuanian has this possibility), my inner self gets ruffled. Maybe we could call a diminutive name the small idol, craved from wood and set into a tree, sitting and mournfully underlying his cheek.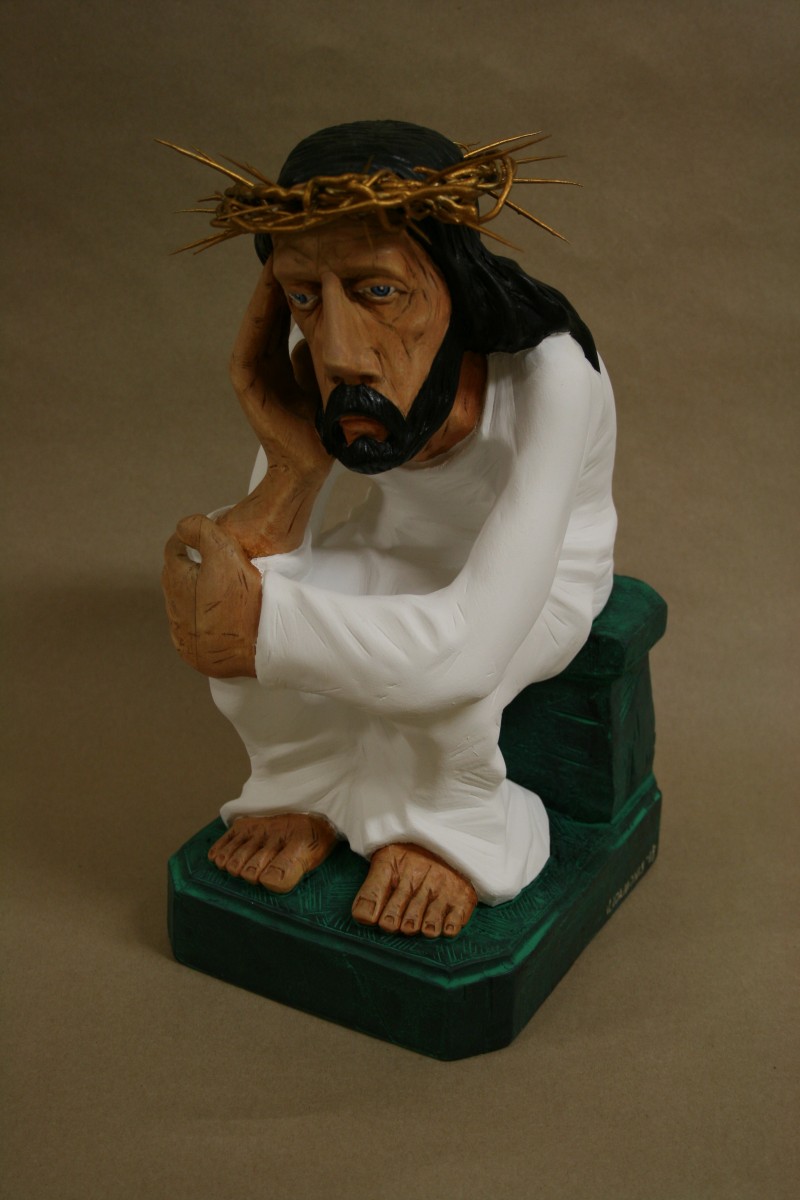 Such made in Lithuania idols are now internationally protected as our cultural heritage.
There are idol "gods" of other kind, for example this small baby doll, dressed in golden robes and closed in flamboyant building.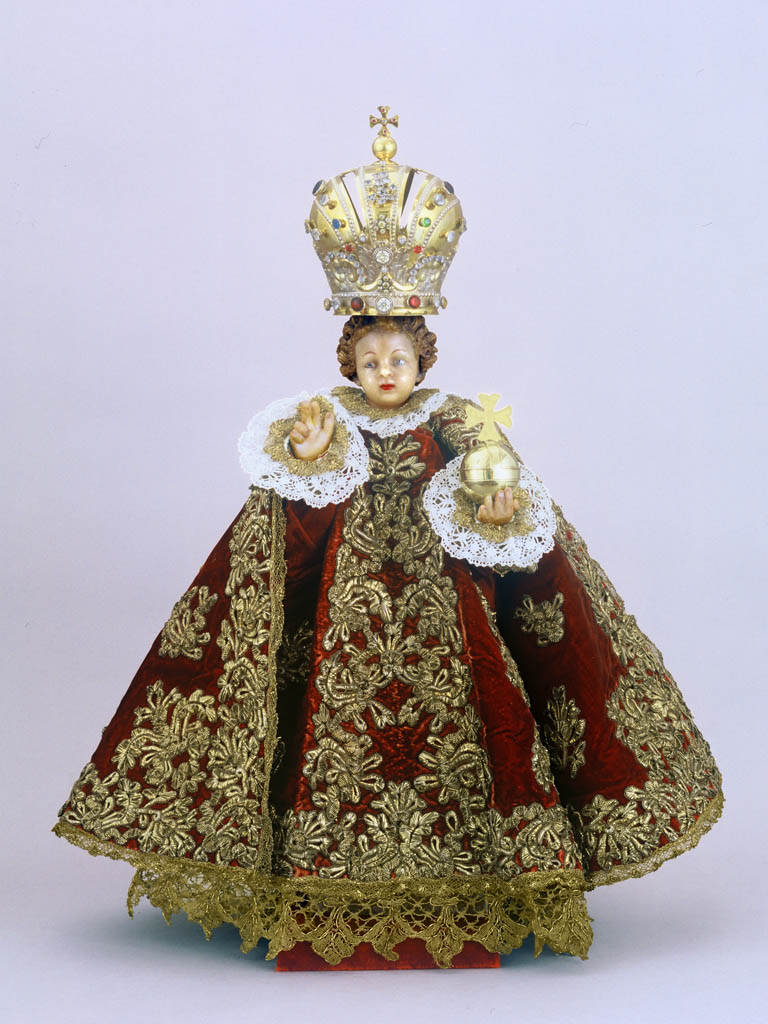 Is it not beautiful, to make such our own little god and worship him?
But remeber, we cananot make an image of Lord God, almighty God, God the Judge. He has forbidden us even to try it. You know, how often people did not obey to God. It is worth to read the Old Testament. It is difficult to read; at least for me in the beginning it was difficult. Yet we should not be afraid of it, but to read very attentively, because it is full of examples for our correction and instruction in righteousness. We see here (you can read any of the books of Propeths) what horrible fate was ment for those, who worshiped other gods – this is fornication in spirit. If the person is born again he or she is able to accept that God has wrath, because the Holy Spirit leads such person, gives explanation, teaches and comforts.
It is really Good News that we are living at the time of the New Testament and Jesus Christ protects us form the God's wrath. God himself became a man in the person of Jesus Christ, in order to protect us from His own wrath, because He loves us so much. And He remains with us through His Holy Spirit. These are really Good News. And Jesus Christ, our Saviour will come to judge the world. It is wrong to speak only about God's love and to leave aside that He is a consuming fire and He is a Judge and that in spite of His love, the sin leads us to death and only the blood of Jesus Christ, He shed for us can save us. If we accept the sacrifice Jesus made for us and if we believe that it is truth, if we decide to follow Jesus Christ and keep all the things He teaches us, if His Holy Spirit leads us and we obey, only then we can call overselves the children of God. Therefore to seek holiness is the main condition of Christian way.
Hebrew 12, 14-17:
14 Follow peace with all men, and holiness, without which no man shall see the Lord: 15 Looking diligently lest any man fail of the grace of God; lest any root of bitterness springing up trouble you, and thereby many be defiled; 16 Lest there be any fornicator, or profane person, as Esau, who for one morsel of meat sold his birthright. 17 For ye know how that afterward, when he would have inherited the blessing, he was rejected: for he found no place of repentance, though he sought it carefully with tears.
Let us look into this letter a little bit above, from the beginning of the chapter:
Hebrew 12, 1-9:
1 Wherefore seeing we also are compassed about with so great a cloud of witnesses, let us lay aside every weight, and the sin which doth so easily beset us, and let us run with patience the race that is set before us, 2 Looking unto Jesus the author and finisher of our faith; who for the joy that was set before him endured the cross, despising the shame, and is set down at the right hand of the throne of God. 3 For consider him that endured such contradiction of sinners against himself, lest ye be wearied and faint in your minds. 4 Ye have not yet resisted unto blood, striving against sin. 5 And ye have forgotten the exhortation which speaketh unto you as unto children, My son, despise not thou the chastening of the Lord, nor faint when thou art rebuked of him: 6 For whom the Lord loveth he chasteneth, and scourgeth every son whom he receiveth. 7 If ye endure chastening, God dealeth with you as with sons; for what son is he whom the father chasteneth not? 8 But if ye be without chastisement, whereof all are partakers, then are ye bastards, and not sons. 9 Furthermore we have had fathers of our flesh which corrected us, and we gave them reverence: shall we not much rather be in subjection unto the Father of spirits, and live?
The strict spiritual discipline is part of God's love. You know - to be a child of God is not easy; the path of Jesus Christ follower here on earth is not easy.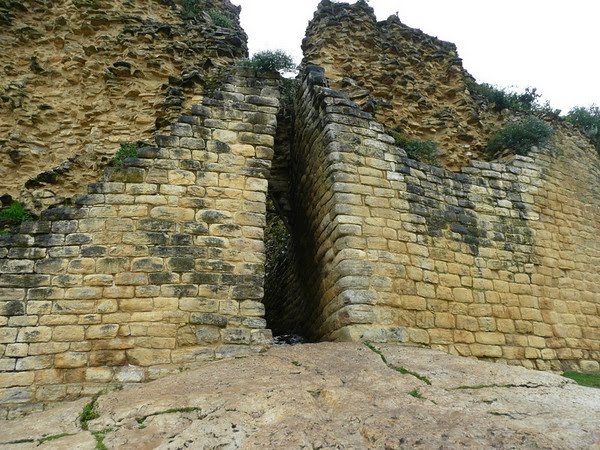 It is not fluffy comfortable "Christianity". It is not a club for people with similar "hobby" – Jesus. It is not a game. Please do not let yourselves to be cheated that the "sinner's prayer" alone, those few words that you have said at the moment of emotional rise, can save you in spite of sins you cannot or do not want to refuse. Yes, God loves us; yes He is full of mercy and He is willing to forgive and forgives for those, who follow Jesus. But what does it mean to follow Him? If you want to stay in your comfortable small world, and only occasionally to let Jesus Christ there, but only for a moment, if you want to go and be the spectator of worship in some community, give a "compulsory" tithe, and then share with the fold a coffee cup and local news, where any new preacher arrives or some miracles are promised to happen or maybe some new Christian camp, or maybe a concert; there is such way of "following Christ". But this is not the path of discipleship. You see, I dare not say that these people are not saved. I do not know exactly and God is their judge, not me. But I'm not talking to you only about "a way of being saved". I am talking about discipleship.
We have talked once to one catholic man from certain ecumenical organisation. A lot of things were said to him, what are not according Word of God in the catholic church and that organisation in particular; some of these things he acknowledged, yet some refused to aknowledge. That church was dear for him emotionally. There were lot of people who are too dear for him to leave. And he asked me: "Why are you talking in such way, if you would like to take form this organisation each person, who believes Jesus Christ?" I said: "If I only could, I would take every one, this same minute." I said this with big assurance, because it is a serious thing for me, I love those people that are lead in error. I belonged to that organisation and I was deeply in that false teaching and now I understand what they are doing and what it looks like in God's eyes. Yet that man felt insulted and asked: "Does this mean that you dare say that no one would be saved there?" And I said: "I do not know; only God alone knows it."
I did not want to offence him. In fact, I do not know who will get salvation. God sees what is in man's heart. Maybe there will be saved people in that organisation, but I am talking not about a way to be saved, I am talking about discipleship and these are different things. I do not care how to reserve a ticket to heaven and live comfortably here on Earth. I care what my Father in heaven wants me to do. I care to know the One who gave His life for me. I want to know Him as fully, as it is possible and to do His will while living here. Do not you want the same more than anything else?
The discipleship means communication. God does not look at the rituals, even to very devotely fulfilled ones. One religion organisation states that you need to pray rosary and attend mass. Another community distributes prayer cards, where you should tick, how many times you were praying for the selected person. God apparently calculates and after collecting a certain amount of prayers the prayer will be heard. Yet other communities practice compulsory evangelisation; you must go to evangelize: it does not matter that the Holy Spirit does not lead you at that moment to go. They say that this is a comandment of Jesus. In fact Jesus said not to count people, who pray Sinner's prayer and then falsely declare that they are saved now, but to baptise and teach people all things whatsoever He has commanded. Unfortunately there are very few communities who speak about obedience and fulfiling things Jesus has commanded.
In all religious organisations I mentioned, a very important thing is a number of people. Once I got an interesting newsletter form one religious organization in America. There was an offer: "Is your church growing? If not, we will offer to download this wonderful book and series of videos where 10 steps on how to induce your church growth are indicated. We guarantee that after payment of only a dozen dollars, the results will exceed your expectations." ("Money from your fold will start to fill in your account very quickly." No, this is not written, this is between the lines.)
We need to grow in the Lord first of all, not in numbers. And if we are not growing in the Lord, then all the glory should be given to Him, that He does not connect anyone to our community.
There is nothing that would be impossilbe for God, but He does not force us to love and worship Him. What's in your heart? What do you desire? Do you want to earn eternity through right worship? Or do you desire to know Him completely, no matter what does it cost? Did you say to Him: "I will not be able to refuse this?" It odes not matter what "this" means. For one this may be a community, for other so called "most blessed sacrament", for yet another certain priest or pastor, beautifully speaking about love.
If you say to God that you do not want and that you will not manage, He may not enforce you. Jesus Christ did not beg anyone to follow Him. When He started to talk strange things: that He is bread that has come down from heaven and the big part of disciples has left Him, He asked the twelve: "Will you also go away?" God does not have illusions about people. He knows that only few will choose the narrow way:
Mathew 7, 13-14:
13 Enter ye in at the strait gate: for wide is the gate, and broad is the way, that leadeth to destruction, and many there be which go in thereat: 14 Because strait is the gate, and narrow is the way, which leadeth unto life, and few there be that find it.
And Jesus was asking if He shall find faith on the earth:
Luke 18, 7-8:
7 And shall not God avenge his own elect, which cry day and night unto him, though he bear long with them? 8 I tell you that he will avenge them speedily. Nevertheless when the Son of man cometh, shall he find faith on the earth?
This is a warning for us. Religion and the world are two sides of the same borad path. It is broad enough to accommodate everything. The Word of God urges us to leave all the unclean spiritual things.
2 Corinthians 6, 14-18:
14 Be ye not unequally yoked together with unbelievers: for what fellowship hath righteousness with unrighteousness? and what communion hath light with darkness? 15 And what concord hath Christ with Belial? or what part hath he that believeth with an infidel? 16 And what agreement hath the temple of God with idols? for ye are the temple of the living God; as God hath said, I will dwell in them, and walk in them; and I will be their God, and they shall be my people. 17 Wherefore come out from among them, and be ye separate, saith the Lord, and touch not the unclean thing; and I will receive you, 18 And will be a Father unto you, and ye shall be my sons and daughters, saith the Lord Almighty.
When I say that born from Spirit Christian, the child of God should leave the religion system, do I mean that the true Christian must be alone? No, it would be against the Word of God. We see in the Bible that the true believers were in churches, they seldom worked alone. And our Lord Jesus Christ sent his disciples in pairs. Yet children of God do not create the churches by themselves or connect to some church by their own will because of good worship band or preacher or delicious coffee or some great project financed. The Holy Spirit and only Holy Spirit leads the children of God in their way. When Jesus Christ said that we must born again of the Spirit, He compared born again people with the wind:
John 3, 5-8:
5 Jesus answered, Verily, verily, I say unto thee, Except a man be born of water and of the Spirit, he cannot enter into the kingdom of God. 6 That which is born of the flesh is flesh; and that which is born of the Spirit is spirit. 7 Marvel not that I said unto thee, Ye must be born again. 8 The wind bloweth where it listeth, and thou hearest the sound thereof, but canst not tell whence it cometh, and whither it goeth: so is every one that is born of the Spirit.
Why Jesus is talking here about the wind?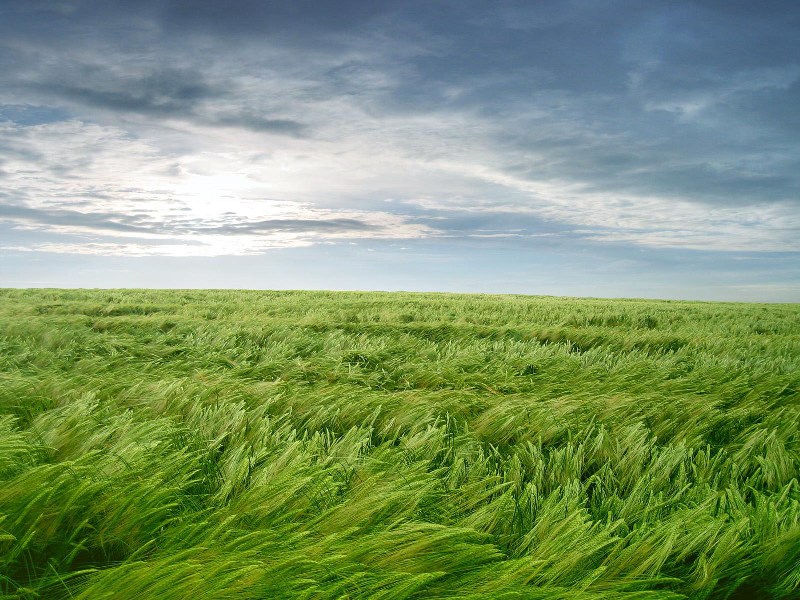 Are Christians as free as the wind? Yes and no. Is the wind free? It blows to that direction, where the Lord wants. And Christians must obey only the Lord God. If you are born of the Spirit, you should not sit up there, where action takes place according to the schedule every Sunday: the sermon of the leader, some prayer, tithes collecting, Bread breaking, and coffee or tea drinking.
If you are born of the Spirit, and you hear the voice of Jesus Christ and want to obey Him, He will guide, grow and lead you, and He will find for you a community of same mind brothers and sisters in the Lord. There you will be able to use your gifts in the Spirit for assistance and development of the body of Jesus Christ. For it is not we who create churches; He is raising His bride for a meeting with Him when He comes again. The Lord really does great things, first of all in our hearts, if we let Him, then, if He wants, miracles may happen as signs for the unbelieving, whom He wants to be connected to His body.
So we, who are born again of the Spirit, Jesus' bride, look forward to Jesus Christ. When he comes, He will arrange everything and there will be no things we do not know or do not understand. We are living in the end of last times and we do not know, maybe Jesus Christ will come tomorrow. Will you be happy to meet your Savior? Just ask yourself: "Am I really on the narrow Christian way?" And if you ask sincerely, then the Holy Spirit, who works in you, will give you an answer. What happens further, it depends on you. Will you want to stay in Babylon's system, or to go out, as our Lord has said? It is up to you, still to wait for something, or make a decision quickly, because the time is at hand.
Revelation 22, 10-17:
10 And he saith unto me, Seal not the sayings of the prophecy of this book: for the time is at hand. 11 He that is unjust, let him be unjust still: and he which is filthy, let him be filthy still: and he that is righteous, let him be righteous still: and he that is holy, let him be holy still. 12 And, behold, I come quickly; and my reward is with me, to give every man according as his work shall be. 13 I am Alpha and Omega, the beginning and the end, the first and the last. 14 Blessed are they that do his commandments, that they may have right to the tree of life, and may enter in through the gates into the city. 15 For without are dogs, and sorcerers, and whoremongers, and murderers, and idolaters, and whosoever loveth and maketh a lie. 16 I Jesus have sent mine angel to testify unto you these things in the churches. I am the root and the offspring of David, and the bright and morning star. 17 And the Spirit and the bride say, Come. And let him that heareth say, Come. And let him that is athirst come. And whosoever will, let him take the water of life freely.
Amen.

2012-09-21 (translation March 2017)